Which Service Package Fits Your Event?
This article was published on May 13, 2019
Yes!  Your big event is coming up!  Before we can get to the good part (read: the food), you have some decisions to make. Choosing which service package will be fit your event can be tricky, but we're here to help.
The service option you choose from Nelson's Catering will determine the set up and overall feel of your event. Because we cater to events of all scales, we also provide several flexible service types. In order to make your event flow just as you intended it to, we offer a delivery service, casual catering, formal catering and pick up. Keep reading to learn more about our different services!
Delivery Service
Nelson's Catering offers delivery service packages to accommodate events that don't need to have staff stay for the full length of their event. Disposable delivery service includes white foam chafing containers that are sure to keep your food warm for hours, and can easily be tossed at the end of your event.  Delivery may also include basic disposable plate ware. Our delivery specialists arrive before the delivery event to make sure everything is set up before your desired serve time, and then leave before your guests begin eating.
Generally, clients that choose delivery service are hosting more casual events or are serving a manageable amount of food that won't need rotated or replenished over the buffet serve time.  Events like this include small hot lunches, boxed lunches for school or corporate meetings and workshops, as well as backyard parties.
For those events that don't need staff on-hand, but would like a more upscale buffet set up, our Delivery with Real equipment service option may serve better.  This option means our staff will deliver and set up your buffet line with our metal chafing dishes and equipment, and then leave for the duration of the event.  After your event is over, the catering specialists return to clean the buffet line and pick up all of the Nelson's equipment from the event.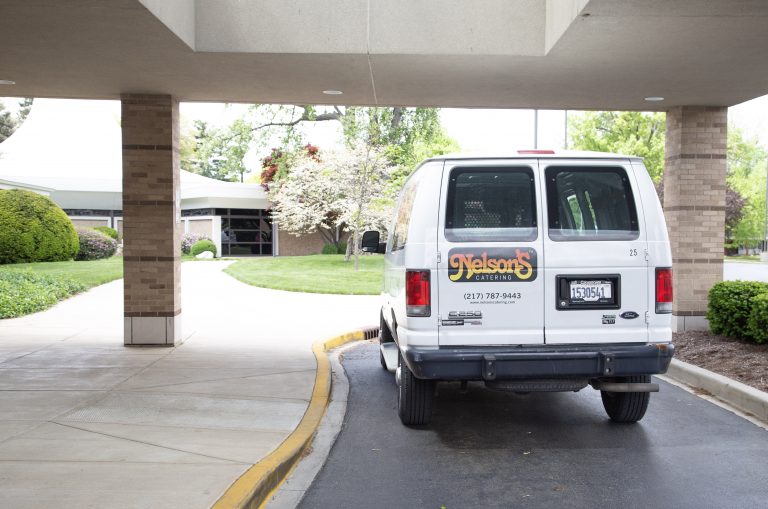 When to use delivery service:
-boxed lunches
-casual events
-longer events that don't necessarily require staff on-hand
-smaller amounts of food that can be managed by a volunteer
Buffet Catering Service
Nelson's Catering takes a lot of pride in our food quality, but we also love our staff!  Our event catering packages help to make events to go smoothly and teams are staffed to ensure every detail provided to us is taken care of so you can focus on your guests.  Catering specialists arrive 45-60 minutes before your event to set up the buffet line for the best flow. We send our teams with information about event details and floor plans to help them cater efficiently and without interrupting other vendors or guests.  
Throughout the event, caterers keep your presentation clean, portion control steady, and all foods fresh.  Caterers buss all guest tables, and handle clean up of all Nelson's equipment at the end of your serve time.  They are also happy to help coordinate leftovers.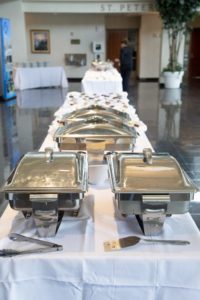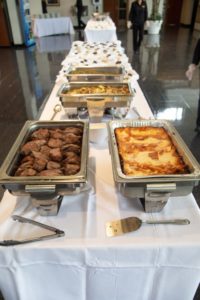 When to use buffet catering service:
-large amount of people to get through serving line
-large amounts of food to keep fresh
-portion control is a priority
-mingling is encouraged
-A emcee or host is on hand for crowd-control and evening flow
-more upscale event, serving and busing services would be a nice addition
Seated Services
Nelson's Catering offers seated service packages in addition to the several buffet options. Seated services can just be a preference of style, but they can also be ideal for more formal events.  Family Style seated services allow for each dish to be placed on the table.  Here, guests pass and self-serve the food as they would at a family dinner.  This can make for very intimate dining, and Nelson's catering specialists are on hand for any help, busing, or dish rotation that may be needed.  
Full Plated Service is also available.  Here, our catering specialist team would serve the entire meal as a plated dish to each individual.  This package brings a high level of service and prestige to guests, but it can also be very functional. Seated options are great for large groups that would take a long time to make it through a buffet line.  They also keep the room clear if you are planning for there to be presentations made during a meal.  Seated services allow for excellent crowd control as the food and beverage comes to them.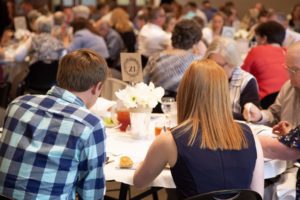 When to use seated services:
–galas, weddings, upscale parties
-ensuring a very specific serving is followed
-toasts, speeches, or other single events are planned that will require everyone's attention during the meal
-personal style is a priority
Pick-Up Package
Nelson's Catering caters to everyone.  Especially the soccer mom that is throwing a graduation party and has a tournament in the same weekend!  Pick-up services are great for those who are hosting or heading to a home event, but just don't have time to cook!  Nelson's Catering has a dedicated pick-up menu.  These are foods that can be picked up at the Nelson's offices in Springfield. Weekend pick-ups are completely welcome, and plate ware may be added on to these orders!
When to use pick-up service:
-You don't have time to cook for your Friday night get-together
-You don't have the oven space to accommodate the amount of food your guests will need
-Graduation season has you too emotional to cook!
The menu is the fun part, but the logistics ensure that your day will go how you've envisioned it and without a hitch!