This article was published on June 17, 2020
Are you looking for a simple, profitable fundraiser for your group or organization? Nelson's curbside fundraisers are just that – simple, profitable and delicious!
"Giving is not just about making a donation, it's about making a difference." Kathy Calvin
Nelson's Gives Back
With 25 years of experience in catering, we are witnesses to the power of a shared meal.  Food brings people together. We have seen this time and time again; and this is why we love helping groups and organizations in our community raise money with our curbside dinner fundraisers. In fact, our fundraiser dinners help groups raise 45-60% profit on average.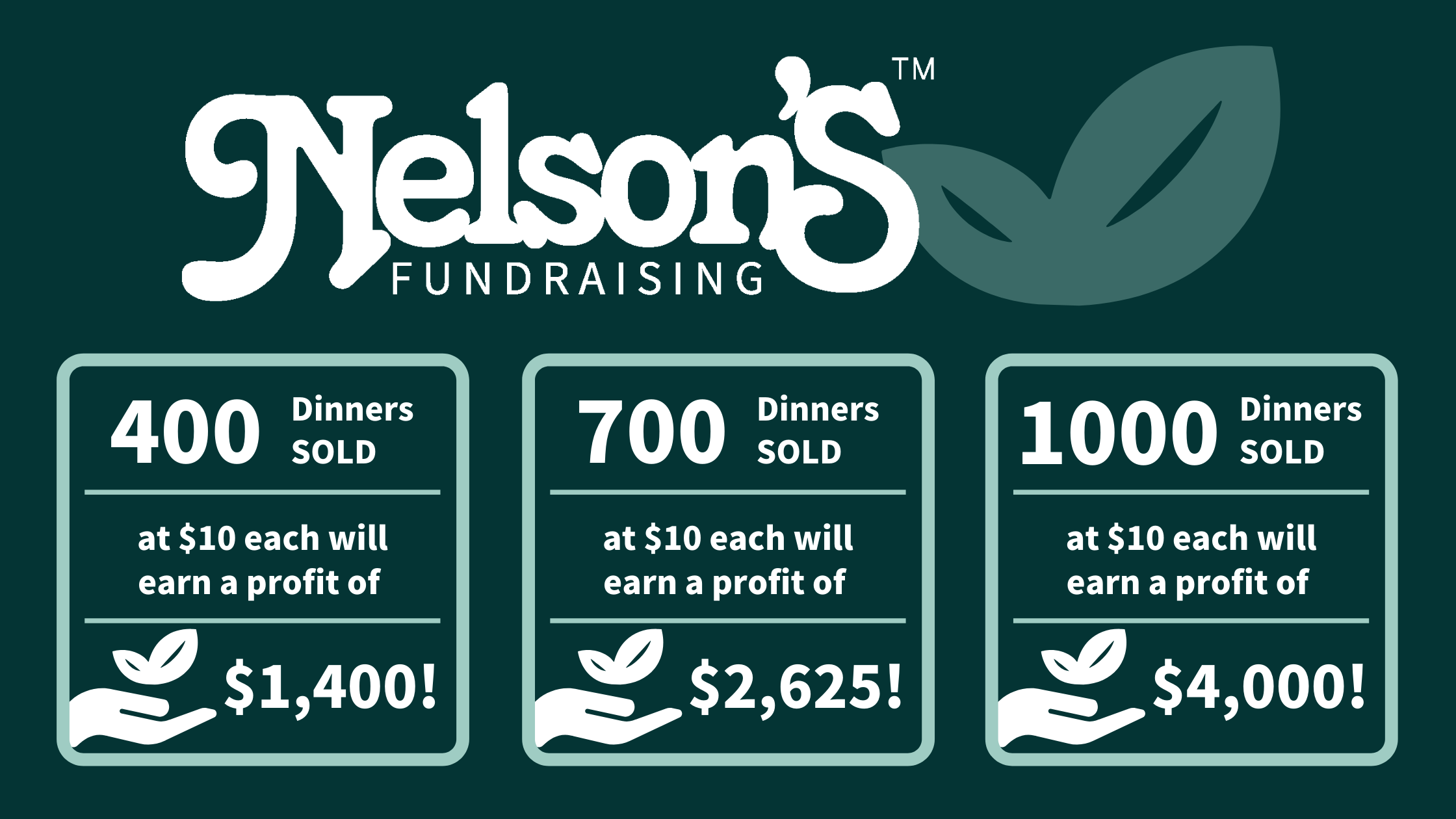 Fundraising Made Easy
Fundraising doesn't have to be difficult! At Nelson's we believe fundraising can be simple and fun at the same time. With our new online ticket platform and unique curbside pickup system, Nelson's fundraisers are a breeze from start to finish. Simply pick a date, select your menu, and advertise your fundraiser. Nelson's will handle the rest – fresh food, individually packaged, & curbside pickup at a location of your choice!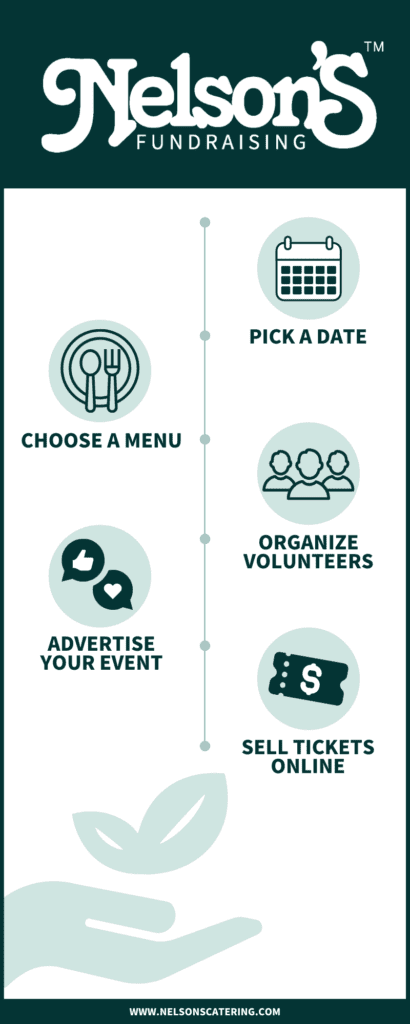 NEW Online Ticket Platform
We know selling tickets, collecting money, and keeping records for a ticketed dinner can be difficult and time consuming. For this reason, Nelson's has implemented a new online ticket purchasing platform. Once you schedule a Nelson's Fundraiser, we will provide you with a link you can use to sell tickets directly through our website. Nelson's will collect the money, keep track of orders, and send email confirmations that can be used in place of paper tickets. All you need to do is promote your fundraiser using email and social media!
Fundraising FAQs
What day of the week is best?  

We suggest selecting a weeknight for your fundraiser. Tuesday, Wednesday, and Thursday work best. 

What menu sells the best?  

Nelson's Grilled ½ Chicken is our signature fundraiser entree and a customer favorite! Keep in mind that all fundraiser meals include your choice of two sides, roll & butter (or a bun for sandwiches), utensils, carryout containers as well as serving utensils and gloves for volunteers. 

Where should I host my fundraiser? Do I need to provide anything? 

You will need a 10 x 20 covered area with two 8' banquet tables for the assembly line. If you are bringing meals directly to cars, choose an area that is easily accessible and won't get congested.

Where can I get tickets to sell?  

Once you schedule a Nelson's Fundraiser, we will provide you with a link you can use to sell tickets directly through our website. We will collect the orders and money, send email confirmations that can be used in place of paper tickets; then we will provide you with a list of all individuals who ordered meals for your fundraiser.

How do I promote my fundraiser? 

Nelson's will provide you with a custom email containing a link to purchase meals for your fundraiser. We will also provide you with custom social media graphics and images you can use to advertise your fundraiser via Instagram and Facebook.

How many meals do I have to sell? 

We recommend you sell a minimum of 201 meals. With less than 200 meals, additional fees will apply.

How many volunteers will I need the day of the event? 

We recommend you have at least 5-8 volunteers for every 200 meals served the night of the dinner.

How long does the dinner last? 

We recommend a 2 hour serve time with a set up time of 45 minutes prior and ample cleanup time after.
Here's what others are saying…
"We were thrilled with the results of the Nelson's Catering chicken dinner fundraiser. The tickets were easy to sell and the night of the event could not have gone smoother. The Nelson's team was wonderful to work with, the assembly of the dinners allowed the team to participate and feel a part of the fundraiser. We plan to do it again next year!" – Tiffany

"We are extremely happy we partnered with Nelson's Catering for our fundraiser. Even during these crazy times of social distancing, we were able to sell many chicken dinner tickets! Our fundraiser was a complete success! The entire process was smooth. The ease of Nelson's website to buy tickets for the chicken dinner fundraiser was very easy. Just click and order! They helped to create our logos and put the word out on social media. Nelson's website even provided an option for us to allow patrons to donate a meal to the Salvation Army. We received so many compliments about this option. As far as the meals, people raved about the food! We will be choosing Nelson's again!" – Sally, Springfield Zoological Board Member
Are you ready?
Are you representing a nonprofit group or organization, a church or school, maybe even a team or club? Whatever the cause, Nelson's will help you reach your fundraising goal!
Give us a call at (217)787-9443 or visit our fundraising page and tell us more about your event.
And before you go…
Check out our Where We're Cooking page to see a list of current fundraisers. Because, of course, there's nothing better than supporting a great cause by enjoying a hot, delicious meal!